ULTRA for mobile devices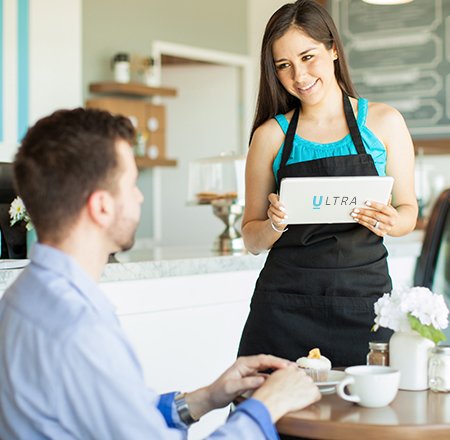 ULTRA is a modern software suite that helps you provide fast and high-quality servicing in your establishment. We know how important it is to leave a good impression, especially if it's the first one. That is why we offer new solutions for your business – Mobile Waiter and Digital Menu.
Mobile apps by ULTRA bring servicing in your restaurant, cafe or diner to a new level of quality. Say "no" to wasting money on printing new menus with every seasonal change of assortment, forget the awkward situations that arise when the ordered meals or drinks are unavailable, leave ordering errors and discontent of guests behind. Take a step towards successful business with ULTRA Mobile.
Here's how it works:
• A digital menu on a tablet considerably increases meal sales. Appetizingly looking photos and tasty meal descriptions will urge the client to make an order.
• ULTRA: Mobile Waiter increases the receipt amount by 20-30% and speeds up servicing time by 50-60%.
• A modern device instead of pen and paper will surprise even the most demanding guest.
• A waiter can instantly see meal and drink availability, as well as recommend top-selling menu positions.
• You can easily make changes to the menu, saving money on printing new ones.
• After a client made their choice, a waiter sends the order to the kitchen and bar printer with a press of a single button.
• Meal hints like "Chef recommends", "Thirst tamer", "Kids favourite" help guests with their choice, making it easier for them to try something new and tasty in addition to their favourite meals.
How does ULTRA improve the quality of work?
• Waiters can instantly identify a client by their card and see a discount availability.
• Orders will be transferred from a waiter to the kitchen automatically, there's no need to run around – this speeds up servicing and reduces error risks.
• Bill and receipt printing (with precise prices) prevents abuse by personnel.
• Automatic calculation of receipt amount, personal discount (bonus) record.
• Client notification about discounts, new positions, special offers.
The software is very simple to use and easy to learn. We'll train your employees and help configure everything turnkey.
More than 3000 establishments in Ukraine have chosen ULTRA not only due of its extensive functionality, but also thanks to its convenient pricing policy:
The cost of ULTRA software – from $9 per month.
Moreover, $9 per month is less than a dollar per day. No hidden charges for additional features + round-the-clock technical support for your business.
For more information, contact us by phone: +38 044 361 33 70